Snoopreport, innovative Instagram like and comment tracker, lets users monitor Instagram accounts and get useful metrics to research the growth and engagement strategy. The reports provided contain a brief summary of user activity, actions hitmap, liked media tags cloud, user interests. It means that you are able to define the hours and days of user activity and the topics that draw user attention at once.
There are a lot of questions and requests on different forums like "How to see every photo someone likes on Instagram" or "How to see someone's like history on Instagram". This data isn't available in Instagram app as Instagram feed can't be filtered by a certain user's activity. Snoopreport shares this information in the reports: likes and follows made by the tracked user with the posts photo snippets that link to Instagram.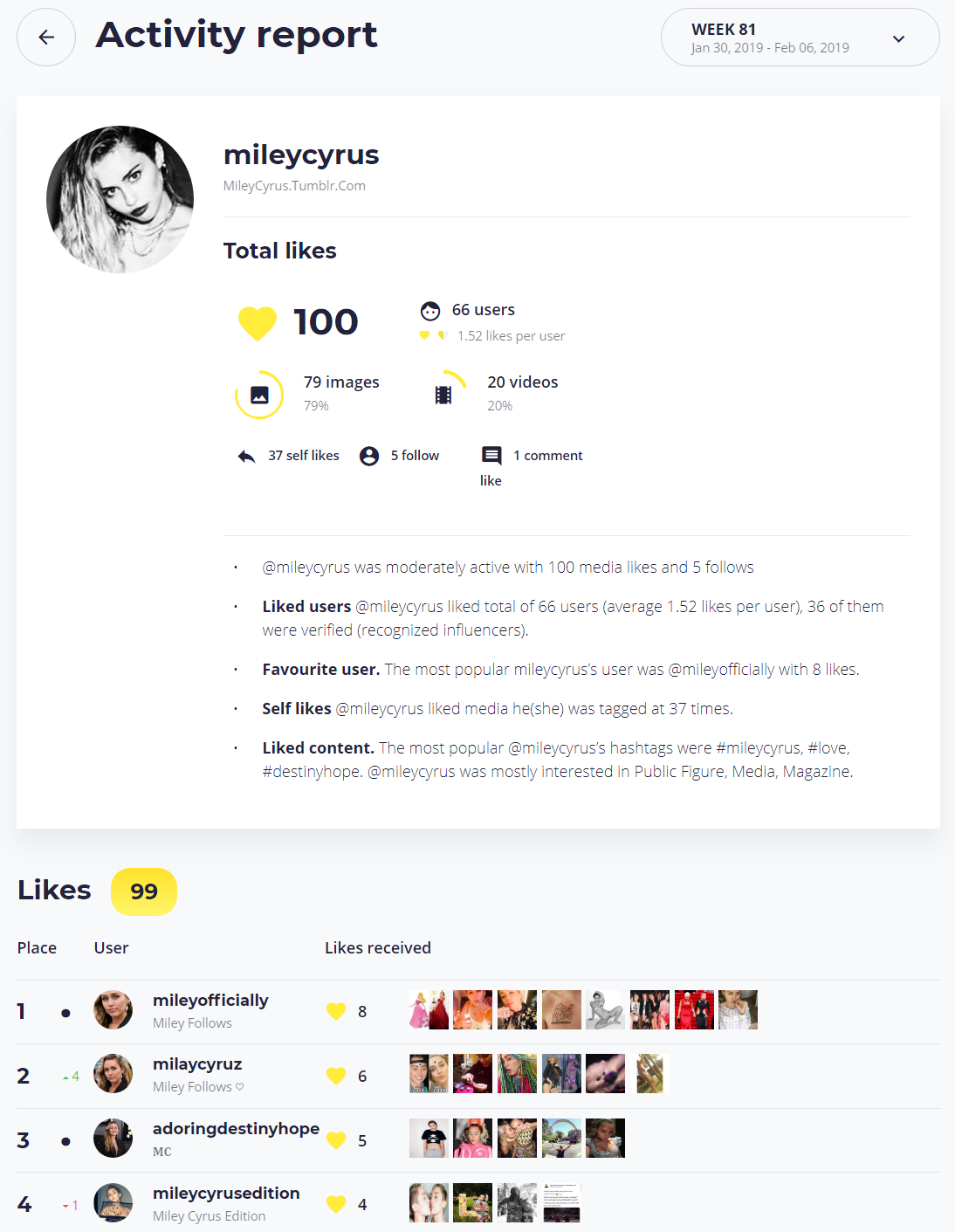 Metrics you can track on Instagram
Likes, self likes, favorite users and more
Brief description of the Instagram user actions contains: the number of likes with photos and videos specified, follows, self likes or the posts liked by the monitored user where he/she was tagged, comments likes, favorite user, liked verified users and liked content.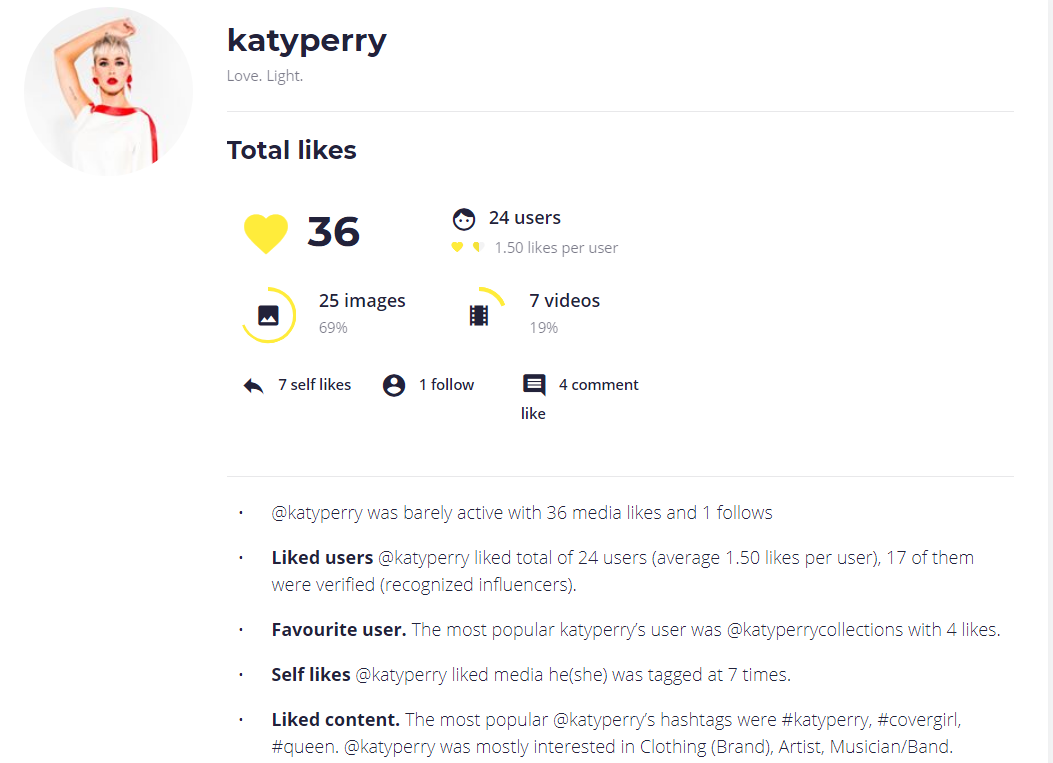 It is important for business to monitor competitors as well as their customers and track activity on Instagram in order to get the user insight required for analytics and customization of their marketing strategy.
Therefore, we added new features that can really improve the research process of Instagram users and economize your time and efforts when you check Instagram activity.
User activity status
Instagram has added the status feature quite recently. It helps to know if the user is online or when he was on Instagram. However, the user can turn off this option. This way you can see only the date when some user actions were performed. If you need to check the period of likes/follows made you should have a look at Actions Hitmap:
The activity periods will help you to monitor someones Instagram activity and to know the dates and days of the week an user logs in on Instagram and looks through the newsfeed and to evaluate how often he uses Instagram generally. E.g. on the hitmap above it's evident that Reese Witherspoon was mostly active from 6 p.m. till 7 p.m. on Tuesdays and from 7 a.m. till 9 a.m. on Fridays and Saturdays and she uses Instagram every day.
Most popular hashtags
Snoopreport doesn't analyze all popular hashtags on Instagram. There are many lists with the most used hashtags classified by topics in different blogs. More important data is the hashtags that attract your followers or potential customers. If you start the research of the hashtags that are added to the posts liked by a specific user, you will have to check hundreds of the posts liked to collect the required results and highlight the hashtags interesting to monitored users.
You can reveal the interests of your customers, competitor's followers by using Instagram likes checker and studying the liked media tags cloud. The bigger hashtags are the most frequently they are used in liked posts.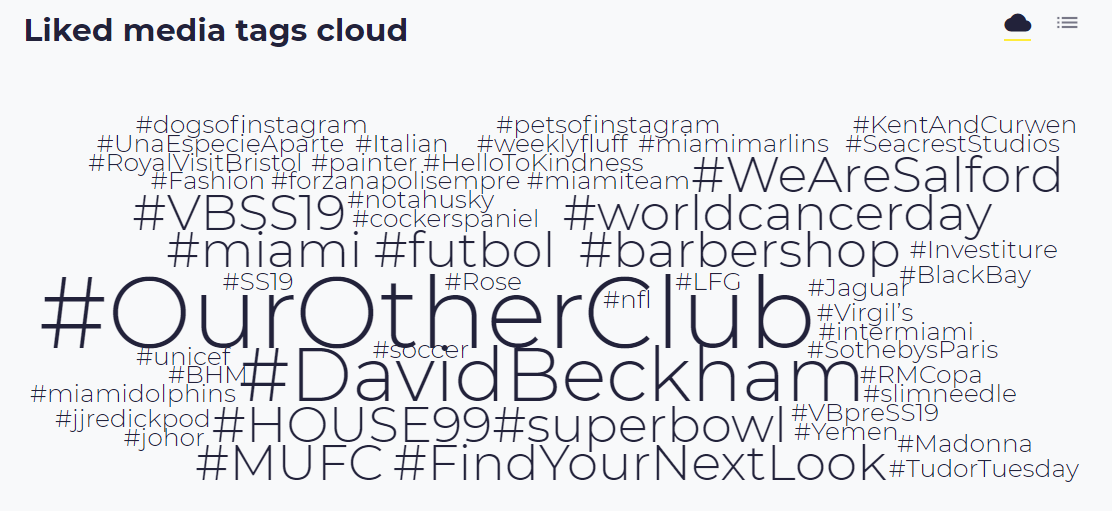 Moreover, you can check the tags list to get more accurate data with number of posts containing the most used hashtags so to conclude which of them draw user attention when he likes a post.
User interests
If you want to deepen your knowledge of the user interests, you should view the user interests cloud containing the categories of the Instagram accounts liked by the user. In addition, there is also a list of categories with number of accounts having the categories in their description. All this data is provided in the reports obtained if you track someones Instagram likes.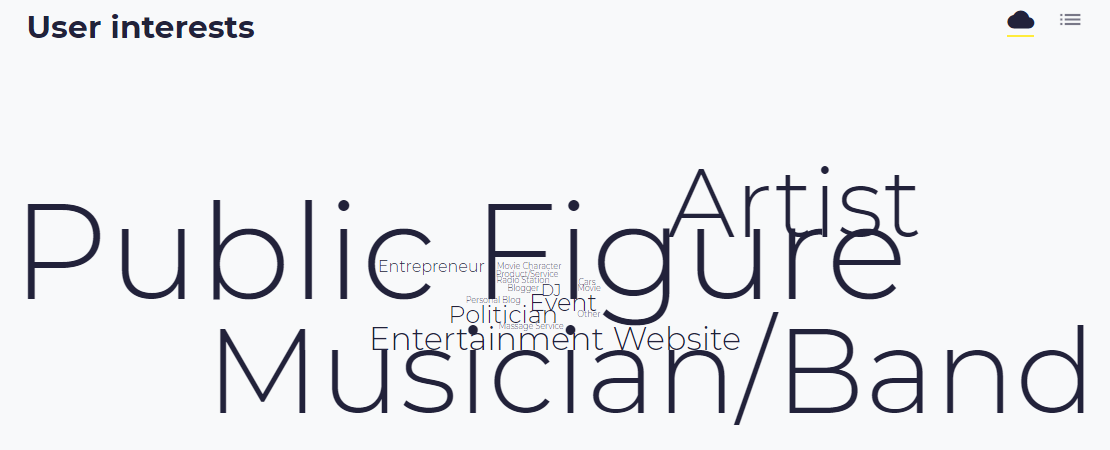 For example, "anitta" account mostly public figure, artist, musician/band categories so obviously the singer likes the similar profiles to attract more followers.
The user tracking with Snoopreport can be useful if you want to:
spy Instagram activity
update your engagement strategy on Instagram and improve the content of your posts
make a list of hashtags relevant to your posts so you could attract more new followers.
set the schedule to make posts on Instagram when your audience is online so your posts will get more likes in a shorter period of time
get valuable insight of Instagram users
Snoopreport helps marketers and researchers to see what people like on Instagram and analyze user behavior easily and maximize their marketing performance.
And don't forget to sign up: