You can learn a lot about people by following their social media habits but tracking all that data can be difficult. If you want to be able to keep tabs on specific Instagram accounts in stealth mode, then you'll need a third-party tracking software like Snoopreport. Trusted by thousands of users worldwide, Snoopreport will help you trace Instagram account activity by individuals, businesses, celebrities, or influencers for your business or personal use.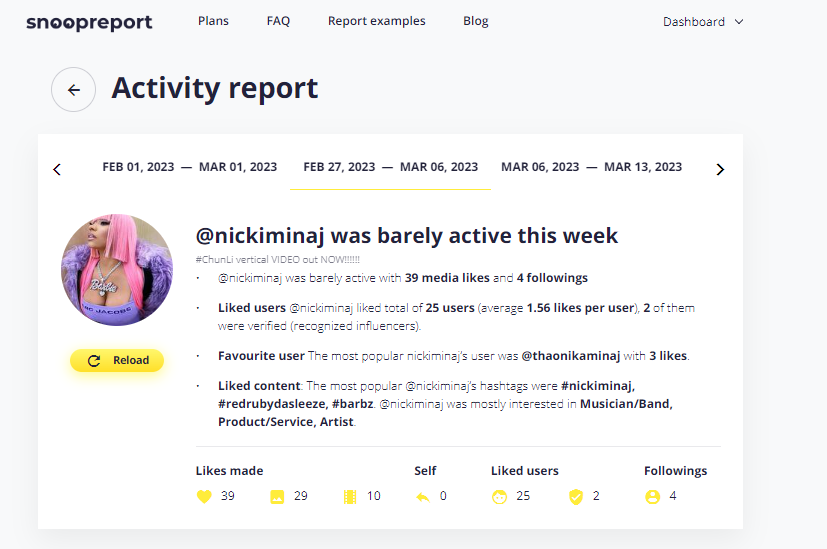 Table of Contents:
How Social Media Is Used Today
There are currently around 2.3 billion active users on Instagram spending an average of 30 minutes per day on the platform, making it a pretty significant part of our pop culture at this point in history.
The majority of Instagram users are using the social media platform to document their personal lives through photos and videos they share with family, friends, and even like-minded strangers they connect with online.
Some people develop a following by being educated on a certain topic or because they are relatable or entertaining. These popular Instagram users can become "influencers" who help people make buying decisions and earn money simply by being popular on the platform.
There are also businesses of various sizes, from independent entrepreneurs to giant multinational corporations using Instagram to market their products and services. All three of these types of users can benefit from gathering data on how Instagram is used.
Many people use Instagram for shopping and for product research. They also use social media to talk to their peers about their hobbies, passions, and problems. All of this information can help you make money or improve your business metrics. The only problem is that Instagram is just too vast for you to accurately track and follow every metric yourself. That's why tools like Snoopreport can be a real lifesaver for you both personally and professionally.
Practical Uses For Instagram Tracking In Your Personal Life
Making online friends and sharing a little of your life on social media can be exhilarating but can also be dangerous. You can use online monitoring and tracking software like Snoopreport to help you and your loved ones stay safe.
By monitoring any public account, you can find out some valuable information:
Keeping tabs on minors to make sure they are safe by monitoring who they like and follow on Instagram and who is liking and following their content as well. Your children love the autonomy and attention they get online, but they are still learning who they can trust and what information is safe to share online. This tool can be a parent's best friend in helping monitor Instagram use for their teens.
You can also keep an eye on an untrustworthy partner or just for peace of mind. Want to see how many times your boyfriend's ex has liked his recent photos? Snoopreport can help with that.
You can use data surrounding followed accounts and hashtags to help you learn more about a friend's hobbies and interests to improve relationships or help with gift giving.
Follow your favorite celebrities more closely. It's no secret that we are celebrity obsessed; now, you can follow your idol's exploits online with a simple report.
The possibilities are endless, and the data collected isn't too personal; in fact, it's all public data just put together in a more meaningly way for you.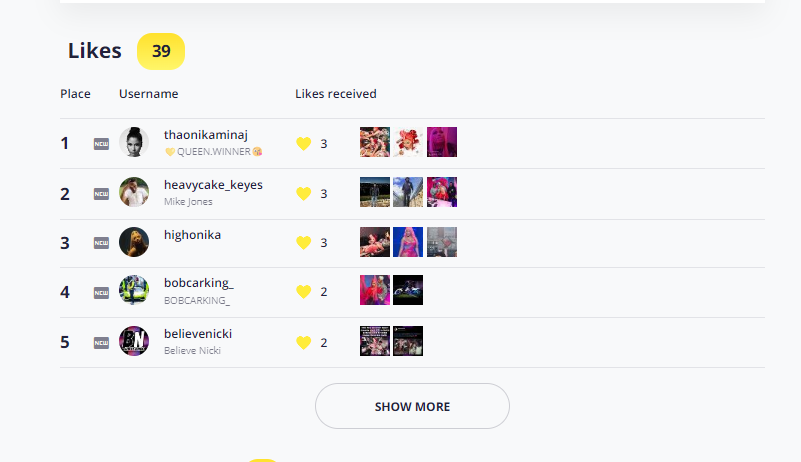 Gaining An Edge In Business Using Instagram Tracking
Before your business even launches a product or service, you can use Instagram monitoring to help decide if your business idea is viable. By watching what people post, say, follow, or respond to, you can easily see their pain points and what interests them the most. Track your ideal customers to learn a lot about them and how your business idea can improve their life.
Already have a business in place? You can use Instagram tracking to see how your customers interact with your brand and with your competition. You can see how they use products and services like yours in their daily life. You can also stay on top of all the trends they follow and get a jump on creating ideas for the next big trend.
These are just a few of the many uses Instagram tracking can have for your business. When it comes to spending your marketing budget wisely, you can never have enough data. Daily, weekly, and monthly reports on Instagram activity can be the difference between a successful and failed marketing campaign.
What Is Social Listening And How Can Snoopreport Help?
Many businesses use what's called "social listening" to gain valuable information. Social listening is the process of gathering and analyzing conversations and trends happening in social spaces online about your brand and your entire industry to help make better marketing decisions. Consumers share their opinions on social media, for better or for worse. You just have to know how to listen in order to capture that information.
There are some important questions you must ask when engaging in social listening. Who is your audience, and what do they want? You can also ask how you can better serve your audience.
What can you expect to learn from social listening? You can see what the general public thinks of your brand and how they react to your industry in general. You can also listen in to see how current marketing campaigns are performing. For example, are people talking about your content, and are they liking and commenting on it?
You might employ several tactics for a full social listening campaign. You can monitor with Google alerts and monitoring services for each social media platform. The best monitoring and tracking program for Instagram is Snoopreport.
Use social listening to:
Build a robust FAQ using actual customer feedback.
Find your customer's most common pain points.
Identify your ideal customers.
Learn what the public thinks about your brand and products.
Get a head start on emerging trends in your industry.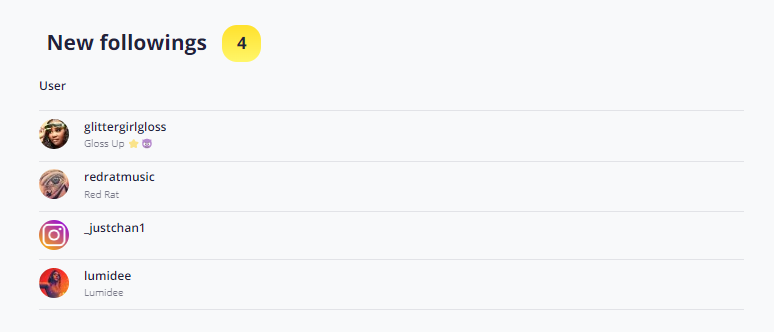 How To Use Snoopreport Data To Improve Your Business And Marketing Efforts
Here are several ways you can use Snoopreport to help grow your business. Keep in mind you are only tracking data for users with public accounts, so all this information has already been shared with their permission. You're going to track targeted users and brands that will help give you insight into future marketing decisions.
#1. Creating Customer Profiles
Creating detailed customer profiles for your ideal customer can help design and market better products and services. Usually, you will create a fictional person with a very detailed background. You will write down their demographics, such as age, sex, and location, and then go into deeper detail with their job, income levels, and hobbies. With Snoopreport, you can actually track real people who fit your profile and see the content they truly share and interact with online. Find a few of your ideal customers on Instagram and add them to your tracking report to learn more about the people your business serves.
#2. Conducting Competitor Market Research
Use Snoopreport for detailed tracking of your competition. You can track any public account, and the great news is all business accounts are public. You can see who they follow, who follows them, and what their most popular content is. You can also see what hashtags they use and are associated with their brand. It's a good idea to track multiple direct competitors in addition to other brands that simply serve the same customers as you.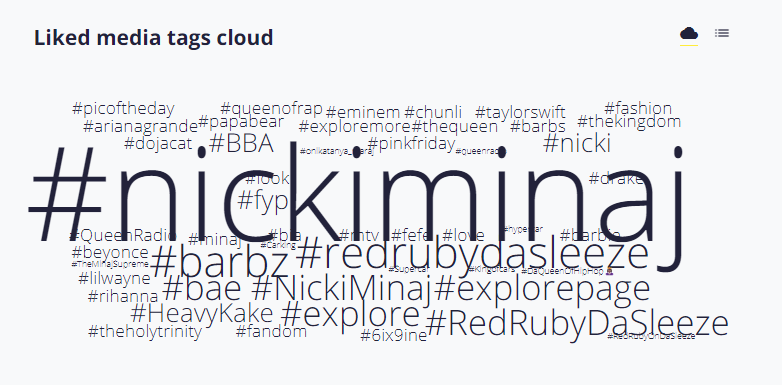 #3. Vetting Influencers For Marketing Partnerships
Influencer marketing is very strong on Instagram. In order to tell if an influencer really has the best audience for your product, you can monitor their account with Snoopreport. You'll see how much activity their content generates, how active their account it, and the topics they are most popular in. This data will be valuable not only when you select influencers to work with but when you negotiate prices as well.
#4. Establishing The Best Type Of Content You Should Be Sharing
Instagram has a unique algorithm that helps it determine what content to show a given user based mostly on what type of content the same user has already enjoyed in the past. That means that by using Snoopreport, you can easily see what content your ideal audience enjoys and can then replicate that type of content using your own branded account. Your ideal customers will be more likely to see your content and, hopefully, buy from you.
Give Snoopreport a try to gather to monitor multiple public accounts, even accounts you don't follow on Instagram. The data you gather can be used for personal or business purposes and is completely legal and dependable.