There's plenty you can find out about people from their Instagram profiles, but those profiles are only the tip of the iceberg. How do you get the inside scoop on someone through their Instagram?
As it turns out, an Instagram account tracker could be the answer you're looking for. Let's explore Instagram account trackers, what they're used for, and how to use them to inform your marketing strategy or your personal life.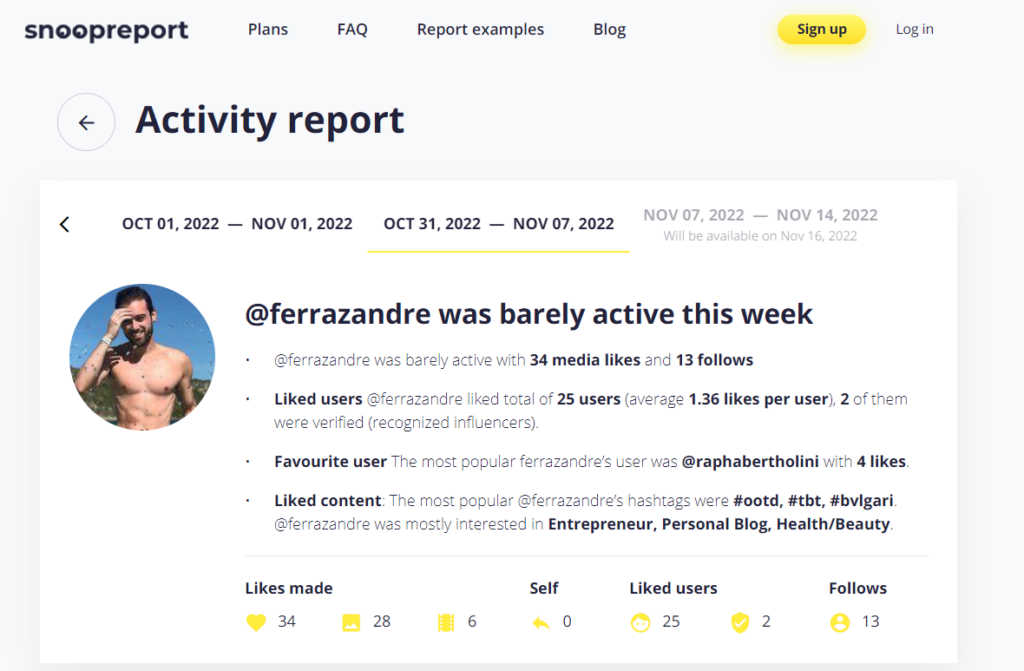 Table of Contents:
What Is an Instagram Account Tracker?
An Instagram account tracker is a tool that tracks a specific Instagram account of your choosing. While various tools offer different types of information, a typical account tracker will show you the person's Instagram activity. Name, it shows you the posts they're liking, new accounts they're following, users whose posts they like, and so on.
While this is technically public information, Instagram doesn't compile the information anywhere on the app. In other words, if the person liked a post and you happened to find that post, you'd be able to see that the person has liked it, but there's nowhere on Instagram to see a list or grid of the posts the person has liked. An Instagram account tracker fills in that gap.
Why Might You Use an Instagram Account Tracker?
Instagram account trackers are used more often than you might expect. In fact, there are several reasons why a person might use an Instagram account tracker.
Understand Your Audience to Improve Your Content
Instagram account trackers are powerful tools for marketers, influencers, and anyone else who's trying to grow their Instagram visibility. If you use the account tracker to follow people who fit into your target audience, you can see what type of content strikes a chord with your audience. Maybe there's a certain meme trend that your audience members are loving, or you see that they're gravitating toward posts with a particular topic.
An Instagram account tracker can help you spot patterns in the content your target users love. From there, you can create content that appeals to their tastes. It's nearly as good as a peek into their minds.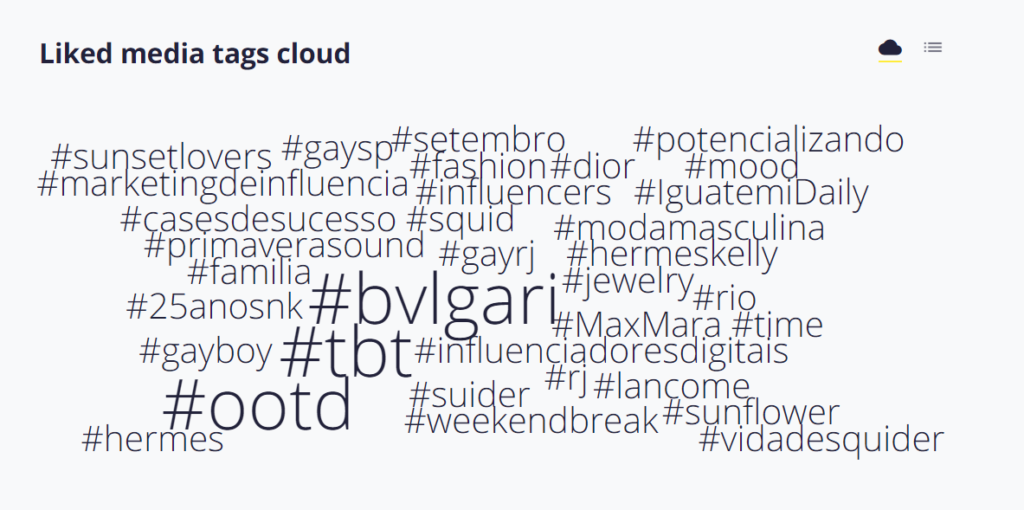 Keep an Eye on Your Kids
For parents who have kids using Instagram, supervision is the key to keeping their children safe online. In many families, an Instagram account tracker helps.
You can use an Instagram account tracker to see your child's activity on the platform. By watching what posts they're liking and interacting with and the profiles they're interacting with. This makes it easier for you to know what types of content they're seeing on Instagram and what content creators are on their radar so you know if they're seeing content that's age-inappropriate.
Follow Your Significant Other's Activity
In addition to learning how to appeal to your target audience and keeping your child safe, an Instagram account tracker can also be a helpful way to keep an eye on your significant other. By seeing what content they're interacting with on Instagram, you can get a sense of whether they're respecting the boundaries you've set as a couple.
How to Use an Instagram Account Tracker
No matter who you're trying to learn about with an Instagram account tracker, these tools are incredibly easy to use. Follow these simple steps to start gathering your intel.
1. Determine Your Goals
Before you launch your Instagram account tracker, take a moment to put your strategy together. Think about what you want to find out by using the tracker and, based on this, who you want to track.
For example, if you're using the tracker to find out about your target audience, define who your target audience is. Maybe that's women between ages 20 and 35, for example. You can then look for Instagram users who seem to fit that description, such as by checking out your followers' friends. Or, if you're trying to keep an eye out for your child's safety, you can track your child as well as their friends' Instagram activity or the activity of accounts they follow.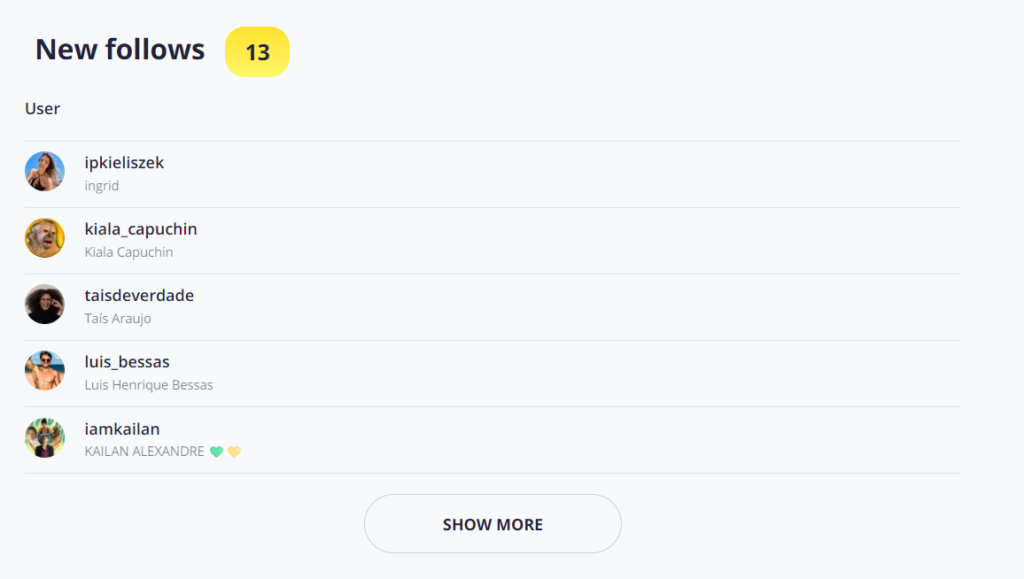 2. Sign Up for an Account
Now that you have your action plan, it's time to get started. Beginning is as easy as signing up for an account.
Each Instagram account tracker is different but in the case of the widely used and respected Snoopreport, making an account is free. Just click "Sign Up" on the homepage, enter your email address, and create a password and you're all set.

3. Choose and Purchase Your Subscription
Now that you have your account, it's time to purchase your subscription. Snoopreport has multiple subscription options based on the number of accounts you can track at any given time. A personal plan lets you track up to two accounts, while you can track up to ten accounts with a small business plan and up to 100 accounts with a professional plan. The ability to track dozens of accounts with the professional plan allows you to get a broad look at your target audience and look for large-scale patterns rather than just seeing one person's interests.
4. Add the Instagram Users You Want to Track
With your account and your plan in place, it's time to start tracking. It's as simple as following these steps:
On your dashboard, click "Add account."
Type in the handle or username of the account you want to follow.
Click "Add."
Repeat this process for each Instagram account you want to track. That's all you have to do – Snoopreport will now start collecting data on your tracked Instagram accounts.
5. Receive and Review Your Weekly Reports
Once an Instagram user is listed on your dashboard, you'll receive a report on their activity each week. That weekly report will include:
Posts the user has liked
Which account's posts the user has liked the most
New accounts the user has followed and when
Top hashtags in the posts the user has liked
Most common topics in the posts the user has liked
These reports will show up in your dashboard every week, so all you have to do is sit back and let them roll in.
6. Follow Up for More Information
Your Instagram account tracker alone will give you an abundance of valuable information about your target audience, child, significant other, or anyone else you're tracking. It can also, however, be a springboard that lets you dig deeper and get even more intel.
For example, your Snoopreport will show you not only the posts that a user has liked but the accounts that published those posts they liked. It will even list them in order of the accounts whose posts the user has liked the most. You can click on those most-liked accounts and check out what other content the accounts are posting.
This can be useful for marketers to get a wider view of the content that your audience members like. If you're tracking your child or significant other, you can also see the type of content that their most-liked accounts are posting to get a better idea of what's showing up in their newsfeed.
You can do something similar with the top hashtags in the posts that the user has liked. Go to Instagram and type in the user's top hashtags to see other content that uses these hashtags. You can use this to get inspiration for your own content or to get a better understanding of what the hashtag means.
Ultimately, your strategies will depend on who you're tracking and what you're trying to learn. Regardless, your Instagram account tracker report is a fantastic way to know where to start.
Why Choose Snoopreport as Your Instagram Account Tracker
As with any popular type of tool, there are several Instagram account trackers on the market. The one that stands above the rest, though, is Snoopreport. Out of all the account trackers available, there are several reasons to choose Snoopreport.
Reliability
Snoopreport is a widely used Instagram account tracker with an established reputation. It's known to provide accurate reports that you can count on.
Discretion
Snoopreport is entirely anonymous. The user has no way of knowing that anyone is tracking their Instagram activity. You don't need to install anything on the person's phone or do anything else that could tip them off to the tracker. There's also no link between your Instagram and your Snoopreport and you don't have to follow a user on Instagram to track them with Snoopreport (in fact, you don't even need to have an Instagram account to use Snoopreport).
Detailed Reports
The information you get from Snoopreport is not only reliable and useful; it's thorough and detailed. The data you receive from a Snoopreport is helpful for numerous purposes yet it doesn't violate the user's privacy by hacking into their account or accessing their private messages.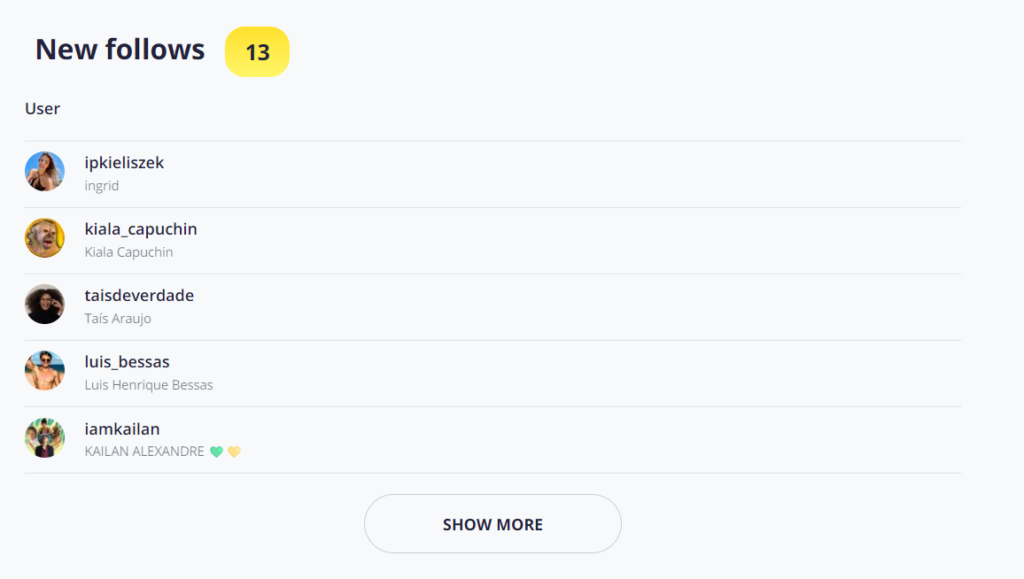 Cost-Effective Option
Considering the quality and amount of information you get from Snoopreport, and the high cost of many Instagram account trackers, you might be surprised to learn how economical SnoopReport can be. There are multiple plan options so you can select the most cost-effective one that suits your purposes, but plans start at just $5 per month.
Putting Your New Instagram Account Tracker to Use
An Instagram account tracker can be a game-changer for your social media content strategy and your personal life alike. Sign up for Snoopreport to get started today.