From hair salons to clothing boutiques to grocery stores, Instagram is a valuable platform for growing your business. With an astonishing 1.9 billion daily active users, Instagram has incredible potential for spreading the word about your business.
It takes strategy to benefit from the platform as much as possible, though. That's why there are so many IG tools that are designed for that purpose. If you want to take your Instagram game to the next level, grab these top tools for your toolbox.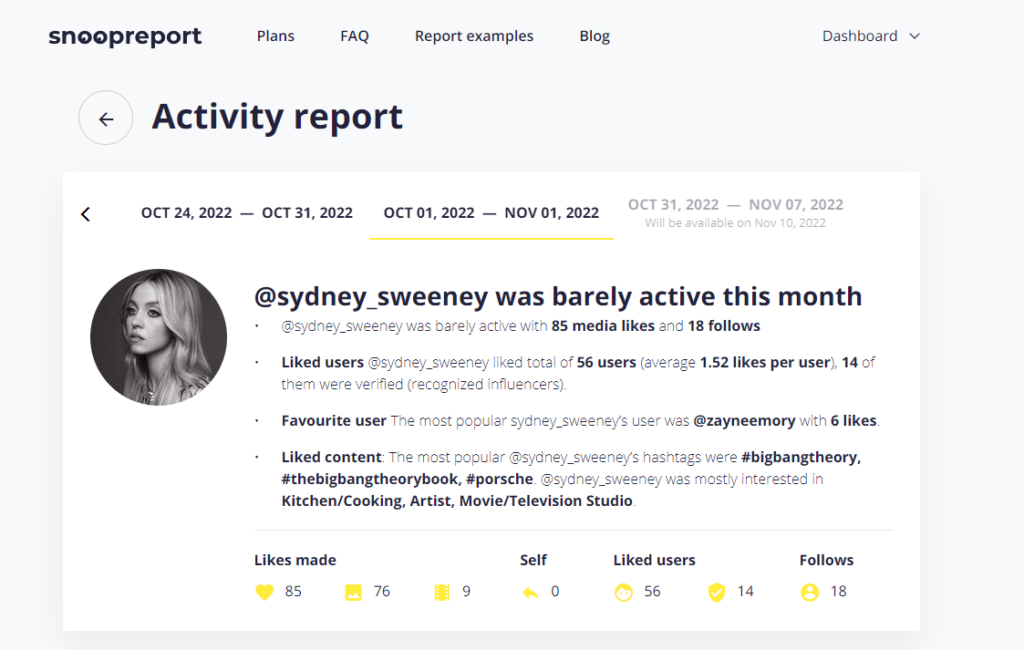 Table of Contents:
1. Snoopreport
Snoopreport is one of the most unique Instagram tools but one of the most beneficial too. It's an activity tracker for Instagram. With Snoopreport, you can track any public profile's Instagram activity including the posts they like, the users whose posts they like, the top hashtags and topics in the posts they like, and so on.
This can be a game-changer in finding out how to appeal to your target audience. Simply use Snoopreport to track some Instagram users who fit into your target demographic and look at the types of content they engage with. Use that to inspire your own content that they'll enjoy.
2. HootSuite
HootSuite has long been one of the most popular tools for Instagram, and when you give it a try, you'll see why.
HootSuite is an Instagram post scheduler, allowing you to schedule your Instagram posts in advance which you cannot do in the app itself. HootSuite also lets you manage your social media strategy in one place for Instagram and other social media platforms. For businesses balancing multiple social media profiles, it's an excellent way to go.
3. IGTools
IGTools is less of an individual Instagram tool and more of a package of tools all in one. It's an Android app that includes a variety of tools that help you improve your Instagram metrics.
The IGTools app can do it all. It's designed to help you increase your followers, increase comments and likes on specific posts you choose, and overall enhance your engagement to bring in a wider, more interested audience. It's helpful for influencers and any business that's trying to grow a larger Instagram following.
4. GhostHunter
GhostHunter might sound more like a Halloween special than an Instagram tool, but trust us, it's a useful asset to have if you want to build your engagement
GhostHunter is a type of Instagram follower tracker that serves to "clean up" your profile. Its top job is to remove ghost followers – accounts that follow you but never actually engage with your content. These are often inactive accounts, business accounts, or other types of accounts that don't benefit your Instagram growth. GhostHunter also helps to protect you from spam and phishing.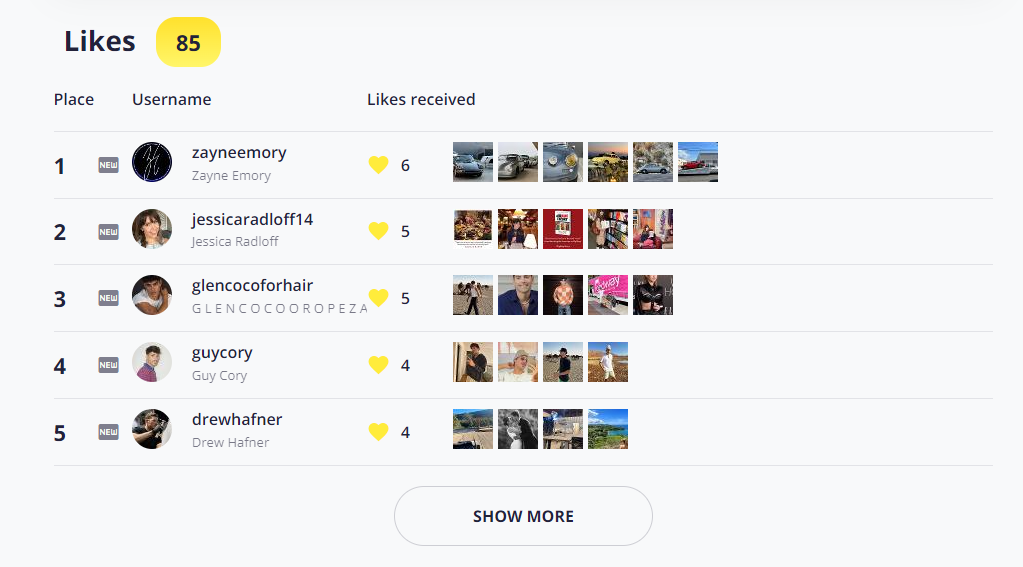 5. SproutSocial
If you've been in the social media marketing game for a while, chances are that you've heard of SproutSocial. This popular tool is the cream of the crop for Instagram analytics.
SproutSocial tracks a wide variety of analytics and metrics for your Instagram and other social media platforms. While Instagram itself tracks some analytics for you, SproutSocial goes far beyond it. It's an excellent way to track your progress and identify where you can improve.
6. Modash.io
Collaborating with influencers and other content creators on Instagram is a fantastic way to get your content in front of their audience and grow your following…if their followers are authentic and engaged. That's where Modash.io comes in handy.
Modash.io is a unique type of Instagram tool that can be vital if you're planning on collaborating with other businesses. It's a fake follower check tool. You can input any Instagram handle and the tool will analyze its followers and give you valuable data like the percentage of fake followers, the engagement rate, and so on. It's a great way to make sure you're getting your money's worth.
7. All Hashtag
Hashtags can help you grow your Instagram following in a hurry by allowing you to join in on timely conversations and get your content in front of more people who have shared interests. It takes strategy to know what hashtags to use, though, and that's where All Hashtag comes in.
All Hashtag is an all-around hashtag optimization too. It's best known for its hashtag generator which helps you identify the best Instagram hashtags to use for your posts. It also allows you to search for and analyze various hashtags and it has a hashtag creator too for creating your own hashtags.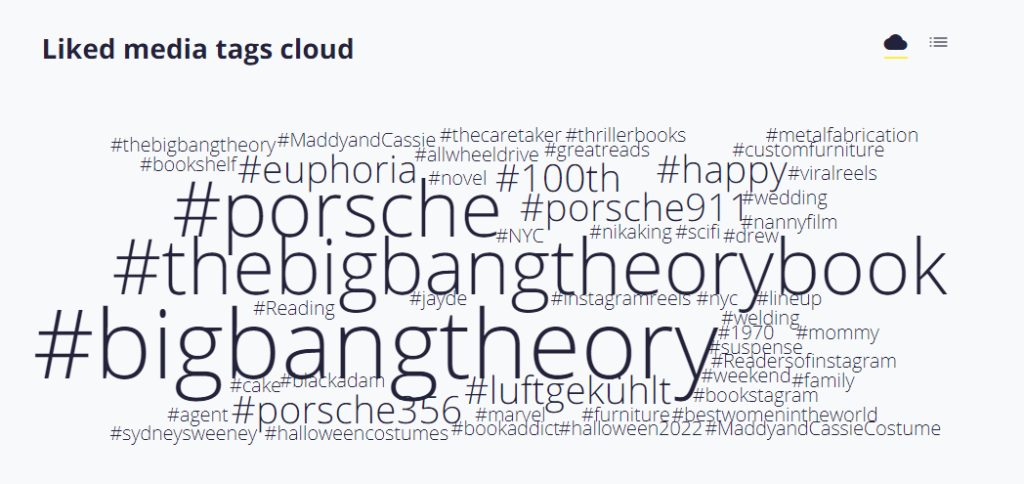 8. Instagram Creator Studio
Instagram Creator Studio is actually a tool that is offered by Instagram itself. This tool is a helpful, unified place to manage multiple Instagram accounts.
Within the Instagram Creator Studio, you can stay on top of your accounts in several ways. You can see a few beneficial analytics to see how they're performing. There are content monetization tools in the Creator Studio too, which is helpful if you want to turn Instagram into another revenue stream for your business.
9. Unfollowers for Instagram
One common frustration for businesses and influencers on Instagram is that Instagram only shows you your total number of followers and notifications when someone new follows you. It doesn't tell you when someone unfollows you. This is why Unfollowers for Instagram is so popular.
Unfollowers for Instagram is an Instagram unfollow app. Simply put, it tracks and reports to you any time someone unfollows you. This can be a helpful way to see who you're losing from your audience and look for ways to re-engage them.
10. Canva
Canva might not be an Instagram-specific tool, but it's instrumental for businesses that want to grow their Instagram influence. Thriving on Instagram, first and foremost, comes down to creating excellent content, and Canva is a user-friendly design tool that makes this possible.
Canva is a platform for creating visual content. It offers templates that are specifically built for Instagram and has numerous photos, fonts, and design elements to choose from. It's often thought of as graphic design software for non-designers, but even skilled graphic designers often use it for quick and easy content and for a low-cost option.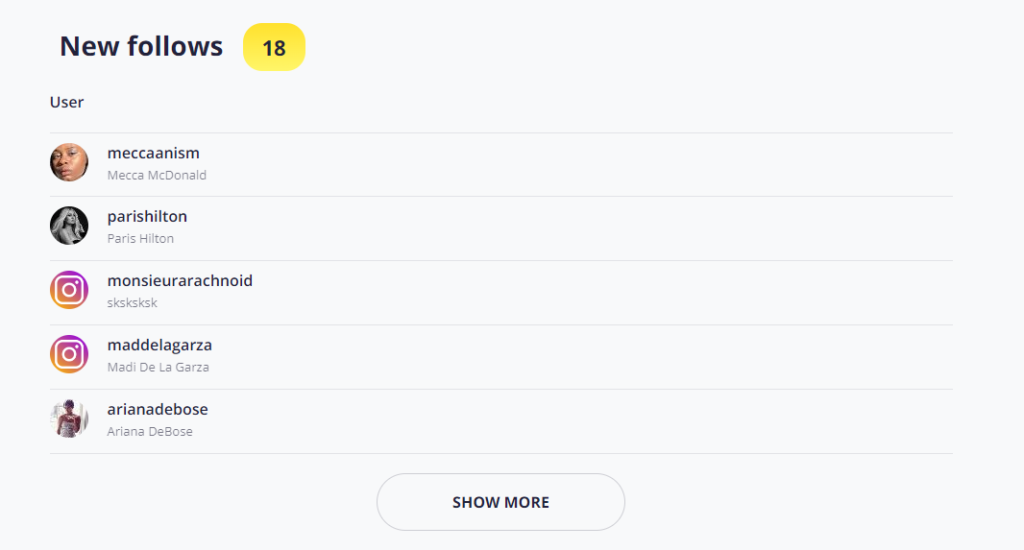 11. Iconosquare
Ever wish you could have someone come in, take a deep dive into your business Instagram account, and tell you what you should be doing differently? If so, check out Iconosquare.
Iconosquare is a tool that performs a thorough 30-day audit of your Instagram account. It shows you detailed analytics and, better yet, gives you recommendations for where you can improve. This type of tool is excellent for Instagram marketing beginners and experienced pros alike.
12. AdEspresso
Paid ads are fantastic for growing your Instagram performance and pulling in followers, but like anything else, it takes strategy to get the most out of those ads. AdEspresso can help.
AdEspresso is an Instagram ad analysis tool. It tracks the performance of your ads and gives you suggestions for how to make them more impactful. It's a powerful way to strengthen your investment and get the ad results you want.
13. ShortStack
The name might give you a craving for pancakes but believe it or not, ShortStack has something even better. If you use hashtag contests on your Instagram account, ShortStack will make your life abundantly easier.
ShortStack helps with Instagram contests that require people to post with a certain hashtag to enter the contest. For example, you might ask users to post a picture of their favorite product from your business with a certain hashtag, giving them an entry into a prize drawing for each post.
ShortStack makes this easier by tracking all those hashtags for you and analyzing which users are most influential. It also has a random winner selection tool so you can quickly pick a winner.
14. VSCO
Videos are thriving on Instagram, but if you want them to perform well, you need to make sure they're well done. You can do this with VSCO, a photo and video editing tool.
VSCO is wonderful for editing slides and videos for stories. It can help you make sure your videos send the message you want and look professional in the process.
15. Linktree
Linktree is one of the most used tools across Instagram. As you know, Instagram doesn't allow clickable links in posts; only one clickable link in your bio. Linktree essentially gives you one link where you can store all your other links for easy access. Through your Linktree link, you can send users to your site, product pages, or any other pages that align with your posts.
Building an Instagram Toolbox
Growing an engaged and profitable Instagram following is not an easy feat, but there are many tools available today that make it easier. You just have to know where to look. Try out any of the tools above or gather many of them into a collective toolbox to send your Instagram performance soaring.
Get started by trying out Snoopreport to see how to optimize your content for your audience. Sign up for Snoopreport to see what it's all about.