Social media activity has become a go-to way to learn about someone. It's now commonplace for employers to look for a candidate's social media activity before they offer them a job or even before they offer an interview. Few people in the dating world today would ever go on a date with someone they haven't at least tried to look up on social media. This is all because people reveal so much of their personalities, interests, values, and on through their social media activity.
Sometimes, though, finding that social media activity isn't as easy as you would expect. That's particularly the case with finding the posts that a person has liked on Instagram. Let's explore why that's more difficult than expected and lay out a surefire way to see liked posts on Instagram.
Table of Contents: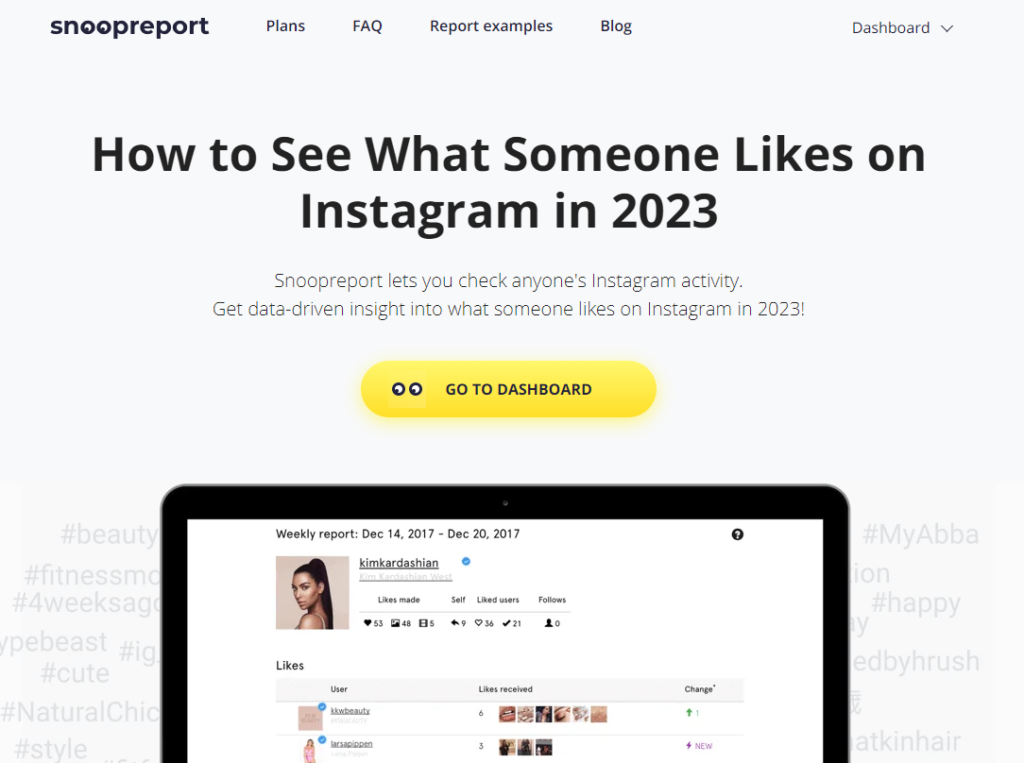 Are Instagram Liked Posts Considered to be Private Data?
There are some types of information on Instagram that are considered to be private data, like direct messages, for example. Liked posts are not; they are considered to be public data. When you scroll through your news feed, you can click on any post and see each person who has liked it. In other words, getting information about the posts a person has liked is not a violation of their privacy and isn't giving you any information that the person didn't know to be public.
Can You See Someone's Liked Posts from Their Instagram Profile?
You would think that, if liked posts are public knowledge, you could see them just by going to a person's Instagram profile, right? Surprisingly, no. There is no tab on an Instagram profile that shows you a compiled list of all the posts the person has liked.
Why would this be the case with such publicly available information? In all likelihood, Instagram does this to make it more difficult for marketers to gather information about a user's interests without using Instagram's advertising tools. You can't check out profiles to see who has liked posts about sporting equipment, for example, but you can pay Instagram to market your ad to people who are interested in sporting equipment.
Don't worry, because there is a workaround: a way to see nearly anyone's liked posts on Instagram.
How to See Liked Posts on Instagram
Seeing someone's liked posts on Instagram doesn't require a computer science degree or a slew of hacking techniques. It just requires one simple tool: Snoopreport.
Snoopreport is an online Instagram activity tracker that is designed to do precisely this. When you set up your Snoopreport to follow a particular Instagram account, it tracks that account's activity and creates a list of all the posts they are liking in real-time, along with other public activity data.
Using Snoopreport to see someone's Instagram likes is shockingly quick and easy. Follow these simple steps.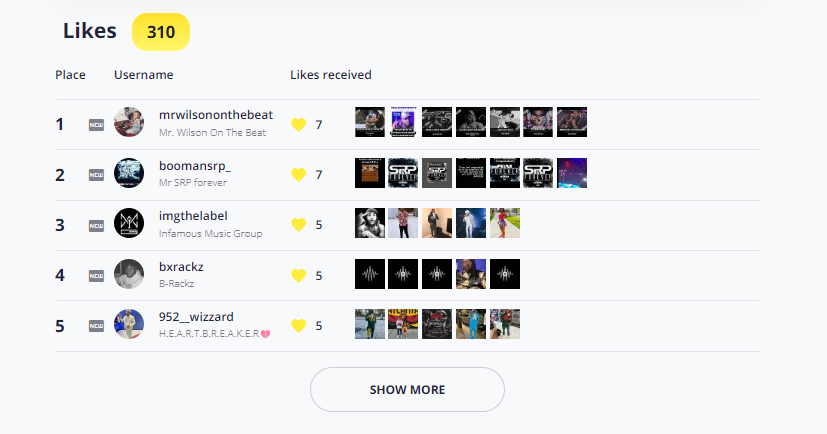 Step 1: Sign Up for Snoopreport
Part of the beauty of Snoopreport is that it is an entirely online tool, so there's no need to download or install anything. Simply go to Snoopreport.com and click on "Sign Up." You'll be able to create your account with only an email address. You don't even need to enter your name, so your Snoopreport account can be fully anonymous.

Step 2: Purchase Your Snoopreport Subscription
After you have signed up for a Snoopreport account, you'll need to choose and purchase your subscription before you can start tracking Instagram accounts. There are multiple subscription tiers based on how many accounts you want to track. Plans start at under $5 per month to track up to two Instagram accounts. Higher-priced yet still affordable plans are available to track as many as 100 Instagram accounts.
Keep in mind that Snoopreport is a month-to-month subscription service. You can pay for the service for as long as you want to continue tracking Instagram accounts; you aren't locked into a specific length of time.
Step 3: Add the Accounts You Want to Track
When you have purchased your plan, you're ready to set your Snoopreport to track the Instagram accounts you want to follow. Start at your dashboard when you're logged into Snoopreport. Click on "Add Account."
You'll then type in the username for the first Instagram account you want to track. The username is the all-lowercase name that shows at the very top of a person's Instagram account. Type in the username and click "Check." Snoopreport will search for the account and, if found, it will show the user's profile picture. From there, you'll be able to click "Add Account."
Repeat this process for each Instagram account you want to follow. Note that this is all entirely anonymous. The Instagram user will not know that you or anyone else is watching their activity.
Step 4: Get Automatic Reports Every Week
At this point, you'll just sit back and let the data roll in. Every week, you'll receive a report that shows you all the posts that your tracked Instagram user has liked that week. Snoopreport even breaks down the liked posts based on who posted them, so you'll be able to see whose posts this person is liking the most.
Along with liked posts, Snoopreport will show you other insights into the person's Instagram activity. It will show you new Instagram accounts they have followed in the past week. It will also show you the most popular hashtags in the posts they have liked, as well as their topics of interest that week based on the posts they have liked. You'll even be able to see how active the person was on Instagram that week overall.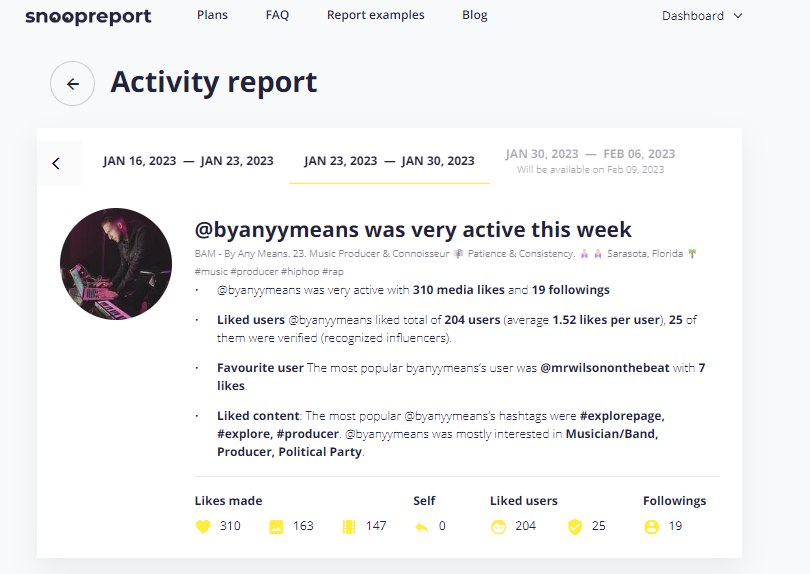 Can You See Anyone's Liked Posts on Instagram with Snoopreport?
Snoopreport is truly an invaluable tool when it comes to collecting insights about a person's Instagram activity. But can it really show you the Instagram activity for anyone?
The only limitation is that Snoopreport cannot track private Instagram accounts. It can track any public Instagram account, though. You don't need to follow the account on Instagram for you to use Snoopreport to track it, nor do you even need to have an Instagram account.
Why Might You Want to See Someone's Liked Posts on Instagram?
With all this talk about how to see anyone's liked posts on Instagram, the natural next question is, "Why?" For what reason might you want to see what someone has liked on Instagram? There are actually many reasons people and businesses around the world use this service.
Gather Data to Grow Your Instagram Followers
One of the top reasons people want to see what someone is liking on Instagram is to gather information to grow their own Instagram following. Marketers, influencers, and content creators need to know what content interests their audience so they can create content that catches their attention and builds their visibility.
With Snoopreport, you can follow Instagram users who fit into your target audience and get critical insight into the types of posts that engage them. It's easy to then use this to create content your audience will love.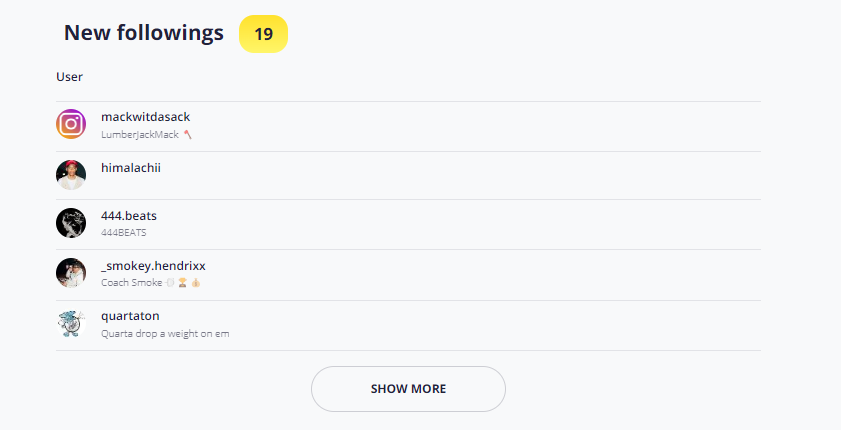 Get to Know Someone Better
If you're considering welcoming someone into your life or your business, you want to know who they are. You can learn a lot about someone based on the content they like on Instagram. This strategy is used by people who are getting to know a potential love interest, employers who are learning about a potential employee, and more.
Keep Your Child Safe Online
Every parent knows that keeping their child safe online starts with monitoring their activity. You can use Snoopreport to see what type of content your kids are interacting with on Instagram so you can remove any potentially risky influences. You can also use Snoopreport to see what your kids' friends are liking on Instagram so you know which friends may be a positive or negative influence on your child.
Determine if You Can Trust a Romantic Partner
Whether you're in a new relationship and trying to build trust for the first time or you're trying to rebuild trust with your partner, Instagram activity offers valuable information. Seeing who and what type of content your partner is interacting with on Instagram gives you a peek into their mind and lets you see if perhaps they are in touch with anyone they shouldn't be contacting.
Keep in mind that this can be especially helpful if you don't have your own Instagram account. An untrustworthy partner could think you won't see who they're talking to on Instagram. Either way, Snoopreport can help you find out whether or not someone deserves your trust.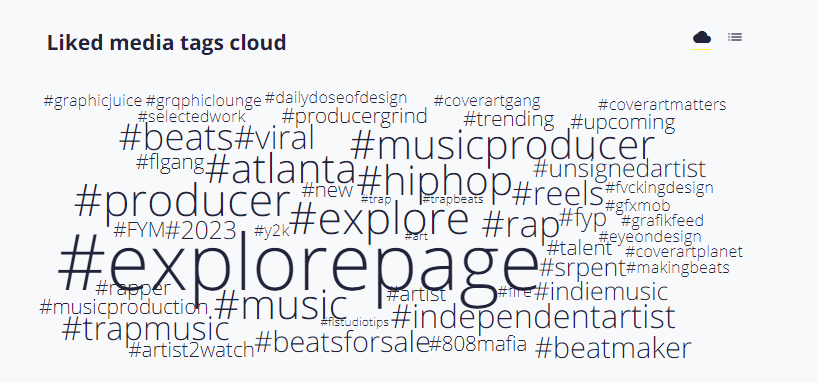 Conduct Competitor Research
In the same way that marketers and influencers use Snoopreport to gain insight into their target audiences, they can use it to learn about competitors too. Engaging with other pages and Instagram users is a crucial strategy for growing your Instagram audience. When you use Snoopreport to follow competitors and see who they're engaging with, it can give you tips to use in your own engagement strategy.
Start Seeing Anyone's Liked Posts on Instagram
No matter whose activity you want to watch on Instagram or what your reason may be, it's incredibly easy to learn how to see liked posts on Instagram and get started. Sign up for a Snoopreport account today and start gathering your data with ease and anonymity.