Likes on your Instagram posts are a metric that nearly every social media user chases. Aside from the fact that it simply makes you feel heard and appreciated, Insta likes give you an idea of how many people your post is impacting.
If you aren't getting as many likes as you want or if you're on a mission to grow your Instagram following, this is the only guide you'll ever need for organically increasing your Instagram likes.

Table of Contents:
What Does It Mean to Organically Increase Instagram Likes?
You've heard terms like "organic likes" before, but what exactly does it mean to organically increase Instagram likes? Let's break down that phrase.
In the world of social media and digital media, "organic" means without using paid ads. In this case, organically increasing your likes means getting more Instagram likes without using paid Instagram ads.
Keep in mind that "organic" doesn't necessarily mean "free." You can use other paid tools to improve your organic stats, just not ads.
The next piece is "increasing Instagram likes." This simply means receiving more likes on your Instagram posts. So, organically increasing your Instagram likes means gathering more likes on each post without using paid ads.
7 Ways to Organically Increase Instagram Likes
It's true that paid ads are a reliable and direct way to boost your Instagram following, but how do you get more Instagram likes without going down that road? There are actually many ad-free strategies you can use, with most of them focused on fine-tuning your content. Follow these tips to bring in more likes organically.
1. Find Out What Your Target Audience is Liking
Every Instagram account appeals to different types of people, and ideally, you should have a target audience in mind. It could be very general, like people in a particular city or women ages 20-35, for example. Regardless, if you find out what other posts your audience is liking, you can see what appeals to them and incorporate that into your content.
So how can you see what people like on Instagram? That's the challenge: by default, Instagram has no way for you to see what posts a particular person has liked. That's why a tool like Snoopreport comes in handy.
Snoopreport is an online Instagram activity tracker. It follows and reports the activity of any public Instagram account, especially showing you the posts they've liked. It's an easy-to-use answer to how to see what someone likes on Instagram.
Here's how to use it:
Decide who your target audience is.
Browse Instagram and make a list of some public accounts that seem to be in your target audience – up to 100 accounts if you'd like.
Sign up for a Snoopreport account.
Select and purchase the Snoopreport plan you want based on the number of accounts you want to follow.
On your Snoopreport dashboard, click "Add Account" and enter the username or handle for the first Instagram account on your list. Repeat this for each account you want to follow.
Each week, you'll receive a report of the activity from every Instagram account you're following on Snoopreport. Click into these reports and take a look at the posts those accounts have liked in the past week.
Look for patterns among those liked posts. Maybe a lot of them have lengthy, meaningful captions, or maybe they're mostly funny memes, or perhaps several of them follow a current trend. Take your observations and incorporate those themes or patterns into your own content.
This method of finding out what your audience is liking gives you an inside view into the content that appeals to them. Following their lead will make your content more appealing to your audience so they're more likely to like your posts too.
2. Get Smart with Your Hashtags
Hashtags are another helpful way to get your content in front of the right people so you can pull in more likes. Hashtags allow you to join in on an existing conversation and allow your post to be seen by people who have been interacting with that hashtag. This means you get more eyes on your content, hopefully bringing in more likes and more followers.
How do you know what hashtags to use to get likes for your Instagram photos? There are plenty of tools to help.
For starters, go back to your Snoopreport results. Along with telling you what posts each user has liked, Snoopreport analyzes the hashtags in those liked posts and gives you a detailed view of the hashtags each user seems to interact with most. This is particularly helpful because it's showing you hashtags that appeal to your target audience specifically.
If you want more general data about popular hashtags across Instagram as a whole, you can also use a hashtag generator tool. There are plenty of these tools available, but they each work by suggesting the top hashtags for your post based on the image, a keyword, or the full post.
3. Collaborate with Other Creators
Other Instagram creators can be a valuable asset if you want to get more Instagram likes, especially if they have the same goal. Team up with them to make some content together, even if it's just a shared selfie.
Each of you will post the content and tag the other. This gets each of you in front of the other creator's audience who are likely to like your post because it includes a creator they recognize and enjoy. Along with getting more Instagram likes on the app, you're likely to get new followers this way too.
4. Follow More People to Initiate More Followers
Having more followers will lead to more IG likes, so finding ways to increase your followers is a great way to organically increase your Instagram likes. One easy strategy is to follow more people.
Many Instagram users will follow you back when you follow them, simply out of politeness and respect. Don't expect a 1:1 ratio because some people won't follow you back. Still, enough people probably will that it's worth your time, especially because it's so quick, easy, and free.
Instead of just following random users, look for people who follow your competitors who post similar content. If they like your competitors' content, they'll probably like yours too. It also helps to look for users who fit into your target audience and follow them.
5. Keep Up with Current Events
People are more likely to like a post when it mirrors their thoughts. If you're posting about something that's already on their minds, there's a good chance they'll like your post.
Do this by making your posts relevant to trending topics at the time. Maybe there's a big news story everyone's talking about or there's a large event going on like a holiday or the Olympics. Posting about popular topics in the moment makes your post more likely to show up on news feeds and more likely to gather likes.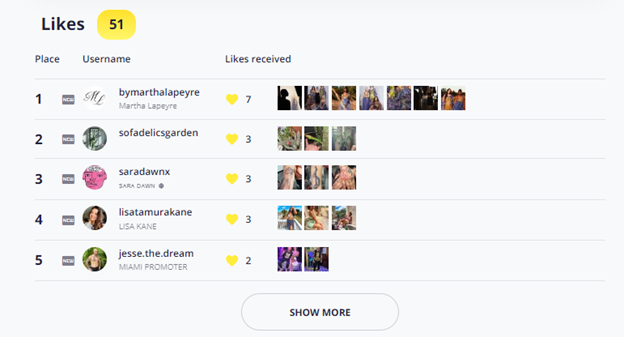 6. Tweak Your Timing
Several years ago, Instagram changed its news feed algorithm to show the most relevant posts rather than just showing posts in the order they were published. The algorithm still prioritizes more recent posts, though, so if you post while your audience is online, they're more likely to see it and click that heart.
How do you know when is the best time to post to get Instagram likes? If you have a business Instagram account, you can find out.
While you're in your profile, click the hamburger menu (three vertical lines) in the top right corner and click on "Insights." From there, click "Total followers" and scroll down. You'll see a bar graph that shows the top days and times when your followers are online. Aim to post during or just before those times.
7. Be Interactive
In the same way that many Instagram users will follow those who follow them, many will also be keener to like your posts if you like theirs.
This strategy is quick and simple. Every so often, head to one of your followers' profiles and like one of their recent posts. Repeat this for several followers and do it on a regular basis. In many cases, people appreciate that you've taken the time to interact with their posts and they're more likely to return the favor.
Make sure you're only liking one post for each person, though. If you go to a follower's profile and start liking each of their posts, it comes off as either creepy or as being opportunistic to increase your following.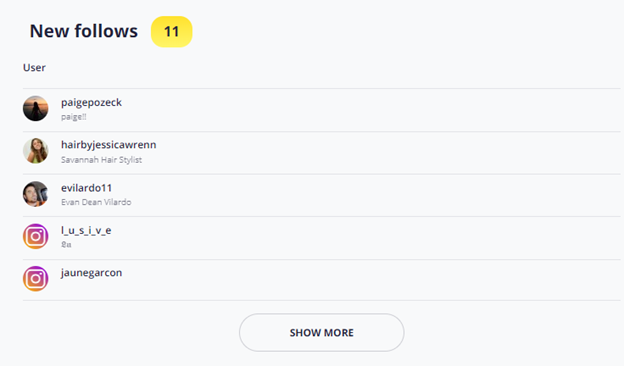 How to Get Started Increasing Your Instagram Likes
The good news with many of the strategies for increasing your Instagram likes is that you can start using them today. Now that you understand key strategies like how to see someone's likes on Instagram and how to post at the right times, you can put them to work. Get started with the help of Snoopreport today.